Dynamic management of industrial maintenance processes
AHJO - maintenance management system
AHJO maintenance management system increases productivity and lowers costs. AHJO is a internet based software that enables dynamic management of industrial maintenance processes. Productivity of maintenance is increased through scheduling and delegating maintenance tasks. Machine down time is reduced by regular preventive maintenance checks, which leads to more savings in usage of spare parts and labor hours. Digitalizing your maintenance processes allows many individuals to access electronic manuals and repair procedures simultaneously as well as input information from many locations. These maintenance process improvements create a foundation for successful industrial operations.
AHJO CMMS software has features for every maintenance team member
Maintenance personnel
Historical record of machine maintenance for quicker diagnosis of problems
Easily available service history, equipment manuals, warranty information, and diagrams
Ability to input information anyplace at any time in electronic format
Information on availability and location of parts and materials
Maintenance supervisors
Dashboard views of work status
Scheduling of detailed inspection checklists by machine run time or calendar days
Detailed instructions and procedures to ensure safety and effectiveness of work
Ability to quickly train new staff in maintenance procedures
Alerts and updates by email or text message
Spare parts inventory management
Capability to analyze long term maintenance trends and equipment issues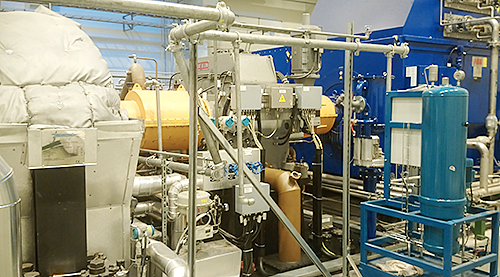 Power plant equipment room.

Operations managers
Insight into long term labor and material costs in maintenance
Analysis of staff productivity
Fewer customer complaints due to less unscheduled downtime
Additional maintenance management features
Maps with layers for graphic visualization of assets and data
3D views inside equipment areas with embedded information or links
QR codes for quicker location of machine service history and input of data
Addition of sensor data for IoT enabled preventive maintenance