Turku Region Water (TSV) ordered Masinotek's online network information service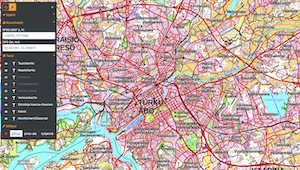 Masinotek has delivered a network information system (NIS) for the water supply network to Turku Region Water (TSV), one of Finland's largest wholesale water companies supplying water to nine cities in southwest Finland. The network information system Masmaps will be integrated into the maintenance software AHJO, which Masinotek has already supplied to TSV many years ago. The mapping software helps to monitor network fault situations and maintenance operations in a large area of ​​water supply operations in southwestern Finland.
Network information system as part of the maintenance system
The software ordered by Turku Region Water enables the monitoring of the maintenance history and maintenance sites of the maintenance system as well as network information through one common user interface. The main interface of Masinotek's Masmaps of can also be used on mobile devices. This enables the maintenance staff of the Turku Region Water to also view the pipe network and, at the same time, their exact own location on mobile devices directly from the field. This enables quick locating of critical pipe network infrastructure such as shut off valves that may be hidden by snow in the winter or tall grass in the summer. Once the point of interest is located, the maintenance worker can access all AHJO functions such as fault reporting and maintenance logs by simply selecting it on the map.
Background map material via the interface from the National Land Survey of Finland
SThe background map data comes directly from the National Land Survey of Finland. The APIs coded by Masinotek are used to integrate several mapping layers: aerial photographs, terrain maps, background maps, property boundaries and property IDs are displayed on the map at different levels. In addition to these, the map also shows the Turku Region Water's own water supply network and various maintenance infrastructure and sites stored in the maintenance system, such as pressure boosting stations and flow measurement wells.
The assets in the maintenance system are shown on the map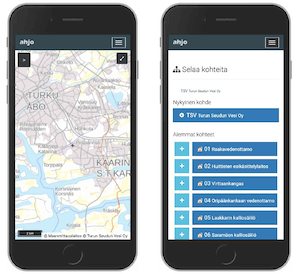 In its own maintenance operations, TSV has used the AHJO maintenance management software developed and maintained by Masinotek since 2014. The maintenance software includes equipment cards for plants and equipment, a fault reporting process, recurring preventive maintenance diaries and logbook entries. In the future, all this data as well as measurements can be connected to the geographic locations in the network information system, for example, the flow measurement data coming directly from the field can also be combined to be displayed directly on the map via the maintenance system.